Can a Leaf Make Music?
Techniques and Aesthetics of Plant-Generated Control Voltage in Electronic Music
Poster presentation for the 2019 SMT National Conference in Columbus, Ohio

And many new developments!

Dr. Paul Miller (Duquesne University), Brian Riordan (University of Pittsburgh) and Christopher Cox (Duquesne University)
---
Contents
---

Download our Poster
Test Subjects and Techniques
Bibliography
Annotated Discography
Additional Links
Max for Live System
Metanoic Echos -- new for 2022
Biographies of Presenters -- from 2019 SMT presentation
Some sound and video demonstrations -- Christopher Cox, May 2021
---
Test Subjects and Techniques
---
This project started out in 2019 as a poster presentation at the SMT (Society for Music Theory) national conference. It's evolved in significant ways since then as detailed below.

The first stage was to collect data about how a plant responds to certain stimuli. To do this, Brian Riordan created a Max/MSP patch that recorded a great deal of data from Instruo's Scion Eurorack module. This, along with our bank of Expert Sleepers ES-8 and ES-6 interface modules, worked well for us, but it was expensive.



Crassula ovata -- Jade plant

Dracaena fragrans -- Cornstalk plant

Instruo's Scion interface module

Brian Riordan's MAX/MSP patch while recording data
Return to Top
---
Selected Bibliography
---

Alpi et al., "Plant Neurobiology: No Brain, No Gain?" Trends in Plant Science, vol. 12/4 (2007), pp. 135-36. [online]

Aristotle. On Plants. Loeb Classical Library, Harvard University Press, 2019. [online]

Baluska, Frantisek and Stefano Mancuso, ed. Signaling in plants. Berlin: Springer Verlag, 2009.

Beverly, David P. et. al., "Hydraulic and photosynthetic responses of big sagebrush to the 2017 total solar eclipse", Scientific Reports 9 (2019) [online]

Brenner, E.D. et al., "Plant Neurobiology: the Gain is More Than the Name", Trends in Plant Science, vol. 12/7 (2007), pp. 285-6. [online]

Burdon-Sanderson, J. "Note on the electrical phenomena which accompany irritation of the leaf of Dionaea muscipula. In Proceedings of the Royal Society of London, vol. 21 (1873), pp. 495-6. [online]

Canales, Javier and Carlos Henriquez-Valencia, Sebastian Brauchi. "The Integration of Electrical Signals Originating in the Root of Vascular Plants", Frontiers in Plant Science, 10 January 2018. [online] -- added in 2021

Chamovitz, Daniel. What a Plant Knows: A Field Guide to the Senses. New York: Scientific American (Farrar, Straus and Giroux,) 2012.

Darwin, Charles. The Power of Movement in Plants. New York: D. Appleton and Company, 1898. [online]

Demers, Joanna. Listening Through the Noise: The Aesthetics of Experimental Electronic Music. New York: Oxford University Press, 2010.

Dunn, Peter and Loraine Leeson, "The Aesthetics of Collaboration", Art Journal, vol. 56/1 (Spring 1997), pp. 26-37. [online]

Fromm, Jörg and Silke Lautner. "Electrical Signals and their Physiological Significance in Plants," Plant, Cell and Environment, vol. 30 (2006), pp. 249-57. [online] [archived]

Galston, Arthur W. and Clifford L. Slayman, "The Not-So-Secret Life of Plants: In which the historical and experimental myths about emotional communication between animal and vegetable are put to rest", American Scientist, vol. 67/3 (May-June 1979), pp. 337-44. [online]

Holmes, Thom. Electronic and Experimental Music: Technology, Music and Culture. Philadelphia: Taylor and Francis, 2008.

Macedo, Francynês da Conceiçao Oliveira et al., "Equipment and protocol for measurement of extracellular electrical signals, gas exchange and turgor pressure in plants", MethodsX 8 (2021) [archived]

Pollan, Michael, "Intelligent Plants", The New Yorker, December 23 & 30, 2013. [online] and [archived].

Schultz, Jack C. "Shared Signals and the Potential for Phylogenetic Espionage Between Plants and Animals", Integrated Comparative Biology. 42/3 (2002), pp. 454-62. [online]

Tompkins, Peter and Christopher Bird. The Secret Life of Plants. New York: Harper & Row, 1973.

Trewavas, Anthony, "Response to Alpi et al.: Plant neurobiology – all metaphors have value", Trends in Plant Science vol. 12/6 (2007), pp. 231-3. [online]

Tsadka, Maayan. "A Field Guide to Sonic Botany: Thoughts About Eco-Composition," Tempo, Vol 75 (295), January 2021, pp. 31-44. [online] (added 2/2021.)

Ziegler, David. "How artist Sam Cusumano is creating music from apples and plants," Technically Philly, 12 May 2014. [online]

MidiSprout source code and design specifications: [online]

Return to Top

---
Annotated Discography
---

Mediation through compositional strategies:

Mamoru Fujieda, Patterns of Plants, with Ishikawa, Maruta, Nishi, Noguchi, Ozawa, Teycheney, on Tzadik – TZ 7025, 1997, compact disc.
Working with a "Plantron," a device created by botanist and artist Yūji Dōgane, Japanese composer Mamoru Fujieda transcribed selected soundwaves from the micro-changes of surface-electric potential on plant leaves. The generated melodic material was then transposed and arranged for instruments in just intonation and Pythagorean tuning.

Mamoru Fujieda, Patterns of Plants II, with Ishikawa, Maruta, Nishi, on Tzadik – TZ 8061, 2008, compact disc.
Eleven years after the release of the original Patterns of Plants album, Fujieda released a new collection of transcriptions.

Mamoru Fujieda, Patterns of Plants, with Cahill, on Pinna Records – PINNA 2, 2014, compact disc.
This two-disc set is the first solo piano recording of Fujieda's music available outside of Japan. This new collection of transcriptions is performed in 12 tone equal temperament.

Mediation through computer software:

Miya Masaoka, Pieces for Plants [online]
Pieces for Plants is an interactive installation for the American semi-tropical climbing philodendron, electrodes, and laptop. The work was also presented in the musical setting of an instrumental ensemble, where the plant acts as an active participant and soloist.

Mileece, Formations, Lo Recordings – LCD30, 2002, compact disc.
UK sound artist and environmental designer Mileece uses the SuperCollider programming language to create generative compositions by mediating data collected in real-time from plants.

Mileece, Sacred Symbols of Mu, Planet Mu – ZIQ100CD, 2006, compact disc.
Electronic music label Planet Mu presents their 100th release, Sacred Symbols of Mu, a compilation which features another plant oriented generative composition by Mileece entitled Tau.

Mediation through MIDI:

Data Garden, Quartet: Live at The Philadelphia Museum of Art, 2012. [online]
Electronic impulses produced by four tropical plants are converted into MIDI and routed to different synthesizers, rhythmic tone generators, and effects.

Duane Bridges, Plant Music: Volume 1 (Rushfoil I-VI and Dracanea I-VI), DMC 15, 2017. [online]
St. Louis based composer Duane Bridges uses a MIDI sprout device to convert responses from plants to MIDI, which is then electronically manipulated.

Duane Bridges, Plant Music: Volume 2 (Four Plantasias for Plant and E-Bowed Electric), DMC 16, 2017. [online]
Continuing with his explorations of human-plant interaction, Duane Bridges creates four duets for plant and e-bowed electric guitar.

Duane Bridges, Plant Music: Volume 3 (Garden Music), DMC 20, 2018. [online]
The third volume of Duane Bridges Plant Music Series is a live recording in the gardens of the Humphrey Estate in Springfield, Illinois. Bridges claims to have set up a laptop that allows eight plants to respond, track by track, to the sounds they produce as well as the sounds of their botanical neighbors.

Use of Raw output as audio signal:

Helen Hé, Plants (Cranberries) for Electric Houseplants track 2 on HTAM S3E01, with How Things Are Made, 2017. [online]
Oberlin Conservatory based composer Helen Hé made this composition for several of her custom-built sensors using modified Theremin kits. The raw data is then converted into audible waveforms.

Mediation through Control Voltage:

Kev Durr, Biofeedback Music #1: Abmient Eurorack Music feat. [online]
Durr uses the same Scion interface module that we conducted our tests on. This is a brief but interesting video that sets down a shimmering timbral landscape.

Gavin Fox, Plant, Interrupted 1.1 ~ Ambient Eurorack with the Instruo Scion. [online]

Paul Miller, Carrot Music, [online]
Miller's first serious plambient experiment making music with a carrot.

Paul Miller and Devon Tipp, Jade Landscape, Shakuhachi and electronics. [online]
Miller collaborated with Tipp, a Shakuhachi expert. For the first part of this performance, the plant didn't generate any significant voltage changes at all. Then it came alive and became so active that the challenge was trying to figure out how to bring the patch under control.

Return to Top

---
Additional Links
---

The Institute for Plant Neurobiology: http://www.linv.org

Pip's Plant Parlour -- an installation at the Tate Modern in 2019 -- [link]

Mileece Abson's web page: [link]

An article in The Guardian from 13 May 2022: "Button Pushers: The Artists Making Music from Mushrooms" [archived]

A mediocre forum discusson on Modiggler: Biometric feedback discussion on ModWiggler

Edwin Lucchesi's work: Cyborn Houseplant can drive itself toward the light it craves (George Dvorsky, December 2018.)

And: https://www.media.mit.edu/projects/elowan-a-plant-robot-hybrid/overview/

Student project at Leeds Beckett University:
The extensive Springer series:
Augustine Leudar's work:

Heidy Appel, et. al., "Caterpillar Chewing Vibrations Cause Changes in Plant Hormones and Volatile Emissions in Arabidopsis thaliana". In Frontiers in Plant Science, 2019; 10: 810. [online].

See also "Masterplants Orchestra"

Return to Top

---
Max Standalone and Max for Live Controller
---

In 2021, Christopher Cox brainstormed and built a new, inexpensive and high-quality interface. The first generation is on the left, and the second generation is on the right. Cox used his 3D printer to construct the black box for the second generation interface, which can simultaneously acquire the signals of five plants.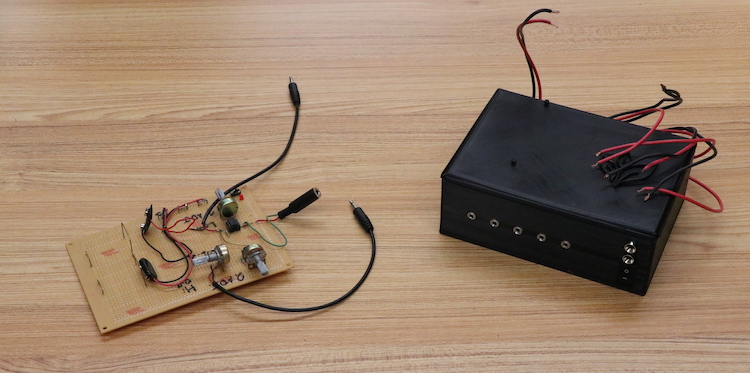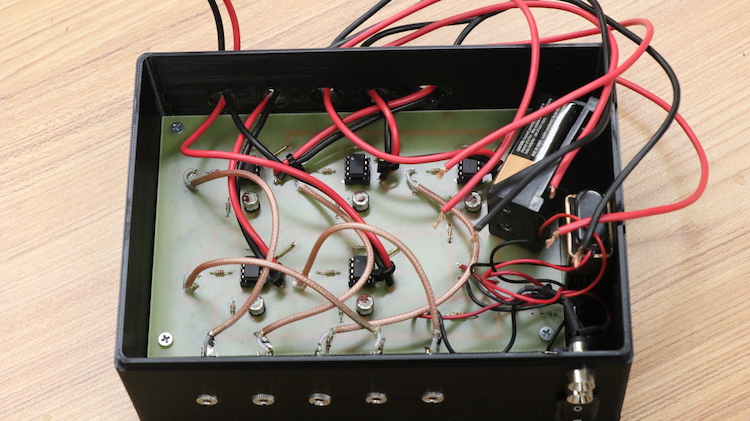 We used a Labjack U3 LV data acquisition device to convert the signals from Cox's interfaces into digital data, and a special external to port the USB data from the Labjack into Max/MSP.

Paul Miller coded a patch in Max for Live to receive, scale and interpret the signals generated by Cox's interface. A subsequent version of the software was developed for the standalone version of Max/MSP. We are now working on a third-generation interface for an April 2022 installation at Duquesne's Gumberg Library.

Here are some screen shots from May 2021.

In this image the detector (which goes on an audio track) is only receiving random noise.





The receiver (which goes on a MIDI track) looks like this.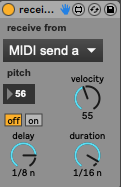 This is the software that I designed for our first installation, "Metanomic Echos". It is a bpatcher window in Max/MSP. You can adjust a lot of the parameters via the inlets on top. The patcher produces a MIDI note out of its single outlet which can be used for any number of purposes within the Max environment. We used four of these in the installation preview. You can watch an informal video over here on YouTube.


Return to Top
---
Christopher Cox's URSS presentation
---
Developing a Multimedia Interface and Framework for Electrical Biosignal Interpretation
Christopher Cox, Duquesne University URSS Symposium
May 2021
Return to Top
---
Metanoic Echos
---

In spring 2022, we received a Paluse Grant from Duquesne University to build Metanoic Echos, an interspecies, interactive multimedia eco-installation. You can go visit its dedicated web site and enjoy many photos, videos and reactions from visitors!

Return to Top

---
Author Bios
---

Paul Miller is an Assistant Professor of Musicianship at Duquesne University's Mary Pappert School of Music. He completed his Ph.D. in music theory at the Eastman School of Music in 2009, and earned a Master's in viola performance there in 2006. Paul's work has been published in Perspectives of New Music, Twentieth Century Music, Music and Letters, Opera Quarterly, and Early Music. He studied with Karlheinz Stockhausen for six summers in Germany, and performed extensively at the Darmstadt Festival from 2004-2010. A specialist in baroque music, he has held principal positions in the Washington Bach Consort and Opera Lafayette. Paul has served on the faculties of Temple University and CU-Boulder. He held a prestegious Mellon postdoctoral fellowship at Cornell for two years.

Christopher Cox is a current sophomore at the Duquesne University Mary Pappert School of Music and is pursuing a B.M. in trumpet performance and studies under Chad Winkler of the Pittsburgh Symphony Orchestra. As a performer, Christopher has played as a soloist with the Westmoreland Symphony Orchestra in 2019 and gave the world premiere of Joseph Wilcox-Jenkins' Soupçon pour Sam for trumpet and piano alongside Dr. Ann Labounsky in 2021. He also plays with the Duquesne Symphony and Chamber orchestras, the Pittsburgh Youth Symphony Orchestra, and occasionally as an organist at the Duquesne University Chapel of the Holy Spirit. Alongside music, Christopher is an electronics hobbyist and enjoys designing, creating, and restoring devices from vacuum tube electronics to modern high end circuitry.

Brian Riordan is a composer, performer, improviser, producer, and sound artist originally from Chicago, IL. He is an Andrew W. Mellon Fellow and a Ph.D. candidate in Music Composition and Theory at University of Pittsburgh. His research interests are in temporal discontinuity, delay-based performance, real-time digital signal processing, and laptop performance aesthetics. As an avid collaborator, he has performed in numerous ensembles ranging from rock, electronic, jazz, classical, and experimental. His compositions have been heard throughout North American, Europe, and Asia.

Return to Top

---
We hope you enjoyed learning about our project.
Copyright © 2019-2022 Paul V. Miller, Christopher Cox and Brian Riordan
---